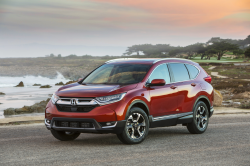 — A 2019 Honda CR-V recall will be conducted after uncommanded airbag deployments injured at least three drivers.
More than 118,500 CR-Vs have defects that can cause the airbags to inadvertently deploy without warning, or possibly fail to deploy when they're needed.
Honda discovered an illuminated warning light on a new CR-V at a plant and determined a fuse blew out from a short-circuit in the sub-harness of the cable reel. The automaker believed the short-circuit was caused by a misrouted sub-harness that was damaged by burrs on the steering wheel core.
Changes were made at all manufacturing plants as Honda and the steering wheel supplier opened a joint investigation into how the cable reel sub-harnesses were damaged. The supplier also changed tools for the steering wheel cores to remove the burrs on the cores.
From February to March 2019, Honda received two claims about uncommanded driver's side airbag deployments in CR-Vs and engineers found cable reel sub-harnesses that were damaged from burrs on the steering wheel cores.
However, the sub-harnesses had been routed correctly during manufacturing.
By the time Honda decided to conduct a recall, the automaker knew of six incidents of airbags deploying by surprise, 41 warranty claims and three injury reports. However, Honda says it is unaware of any crashes related to the airbags.
If the problem occurs, CR-V drivers may notice malfunctions of the steering wheel buttons, horns sounding for no reason or illuminated warning lights.
Honda will have a limited supply of replacement parts and special tools needed to complete the recall repairs sometime in June 2019, but the recall isn't expected to begin until July 8. Dealers will install protective covers on the steering wheel cores and replace the clocksprings and harnesses.
Owners of 2019 Honda CR-V SUVs may call the automaker at 888-234-2138 and refer to recall number R4S.
CarComplaints.com has driver complaints about 2019 Honda CR-Vs and other model years of CR-V SUVs.