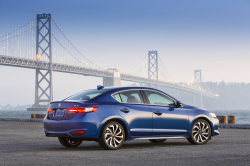 — An Acura ILX recall for more than 58,000 cars has been ordered to replace right driveshafts and halfshafts so the cars don't roll away.
About 50,000 model year 2016-2019 ILX cars are affected in the U.S. and more than 8,300 are recalled in Canada.
In addition to rollaway dangers, the cars could lose motive power while driving.
The automaker received a claim about a car that lost motive power in 2015 and concluded the ILX was assembled incorrectly. Acura changed the assembly line training in March 2016 and thought the matter was over.
But another report was received in October 2017 on a car that was built after the assembly line changes were made.
The automaker opened another investigation and identified abnormal driveshaft grease used by the supplier which was more than three times above specifications.
The automaker says excessive grease application on the right driveshaft may prevent the set-ring on the halfshaft from fully engaging the driveshaft. The driveshaft can separate from the halfshaft if the set-ring is not fully engaged.
A separated driveshaft will disable motive power and allow a vehicle to be shifted int0 the PARK position to roll away if the parking brake isn't engaged.
As of the end of May, Acura has received 156 warranty claims and 78 field reports, but no crashes or injuries have been reported.
Acura dealers will inspect the right driveshafts and if they aren't fully set to the halfshafts, technicians will replace both the driveshafts and halfshafts.
Acura will mail recall notices in July, but owners of 2016-2019 ILX cars may call the automaker at 888-234-2138.