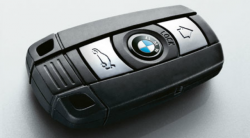 — A BMW X5 "comfort access" class action lawsuit settlement has been proposed after a plaintiff alleged the doors can lock with the keys and fobs inside the vehicles.
The class action includes current and former owners and lessees of 2007-2013 X5 SUVs equipped with optional comfort access systems and who spent money due to unintended locking of the doors.
Plaintiff Kieva Myers filed the X5 lawsuit in January 2016 that alleges the comfort access systems are defective because the doors can unintentionally lock and trap children and pets in the vehicles.
Myers says her 2013 BMW X5 came equipped with the feature that allowed the doors to lock or unlock when the key fob was near the SUV. But the plaintiff says the system should deactivate if the vehicle's keys are inside. However, the system allegedly malfunctioned and a window had to be shattered so a child could be removed from inside the X5.
The plaintiff claims BMW told her in an email that it is not impossible to lock a key inside the X5 and if it did happen it doesn't mean there was a malfunction of the comfort access system.
A federal judge dismissed the lawsuit in 2016 but told the plaintiff she could amend her lawsuit and try again, an effort that finally paid off.
BMW completely denies all accusations of wrongdoing and liability and continues to argue the comfort access systems work as intended.
BMW X5 customers may be reimbursed for out-of-pocket costs associated with alleged comfort access failures that caused children, pets or personal property to be locked inside the vehicles.
Documents that may be used to show proof of expenses include dealership repair orders or police and insurance reports. BMW X5 customers will also receive an owner's manual insert regarding the comfort access systems.
In addition to supplying documentation of expenses related to comfort access system problems, affected customers will need to submit valid claim forms before the deadline of April 8, 2019.
Owners and lessees of 2007-2013 BMW X5s equipped with comfort access systems will only receive the owner's manual inserts if they have not experienced problems that cost them money.
Attorneys for the plaintiffs will receive $692,000 for fees and expenses, and plaintiff Myers will receive a service award of $5,000.
A fairness hearing before the judge is scheduled for March 27, 2019, but BMW X5 owners and lessees who want to learn more may visit ComfortAccessSettlement.com.
The BMW X5 comfort access class action lawsuit was filed in the U.S. District Court for the Northern District of California - Myers v. BMW of North America LLC, et al.
The plaintiff is represented by the Law Office of Robert L. Starr, and the Law Offices of Stephen M. Harris.