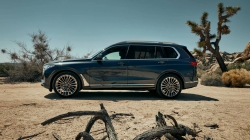 — A BMW X7 recall has been ordered for 31 new SUVs equipped with business lounge seats.
According to BMW, the 2019 BMW X7 xDrive40i and X7 xDrive50i SUVs may have loose attachment bolts between the seat adapters and the vehicles.
The problem occurred during assembly when someone forgot to tighten the bolts.
The good news is all the BMW X7 SUVs are still on dealer lots because the vehicles haven't been sold.
Dealers will replace the seat adapter attachment bolts.