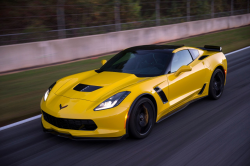 — A Chevy Corvette Z06 class action lawsuit will proceed for certain plaintiffs who allege GM knew the cars overheated from faulty cooling systems.
The class action lawsuit is one of five lawsuits filed in different federal courts by the same attorneys who allege the cars aren't ready for racetracks or even normal highways.
The other lawsuits were transferred to the U.S. District Court for the Eastern District of Michigan where the judge required the plaintiffs to file a consolidated Z06 class action.
The consolidated complaint included nationwide claims about 2015-2017 Corvette Z06 cars, but thanks to a motion to dismiss by General Motors, the lawsuit will proceed for customers in only 16 states.
According to the plaintiffs, they purchased or leased 2015-2017 Corvette Z06 cars GM marketed and sold for use on public roads and racetracks. But the cars allegedly can't handle highways or racetracks because of defective cooling systems.
According to the lawsuit, the engine "will overheat if it operates on the track during a typical track session, which causes the Z06 to go into 'Limp Mode' to prevent permanent damage, or causes the driver to see the overheat gauge and pit the car before it goes into Limp Mode."
The lawsuit describes how GM marketed the cars as "developed to push the envelope of performance on the street and the track." In numerous promotional materials, GM described the cars as "track-proven" or "race-proven" and capable of handling high temperatures.
But the plaintiffs claim the cars sometimes shut down after 15 minutes of track driving as the vehicles suddenly lose power, a serious safety problem with other vehicles nearby.
The plaintiffs also allege GM knew about the defects but continued to market the cars for track driving. According to the lawsuit, Corvette's chief engineer, Tadge Juechter, admitted in 2015 that a Z06 with an automatic transmission reaches "thermal limitations . . . more quickly."
Additionally, customers who "plan to run extended track-day sessions at 'professional' speeds . . . to go with the manual transmission, or to paddle shift the automatic and select higher gears when conditions warrant it."
Allegedly as final proof GM knew the Corvette Z06 overheats from defective cooling systems, the plaintiffs reference how the automaker stopped production of the Z06 in 2016 and modified the cooling system in the 2017 model.
The Court struck down the nationwide class allegations and also dismissed claims under New York and Ohio laws, but various warranty and fraud claims will proceed for 2015-2017 Chevrolet Corvette Z06 owners and lessees in these 16 states:
California, Colorado, Connecticut, Florida, Georgia, Illinois, Kansas, Michigan, Missouri, Nevada, New Hampshire, Pennsylvania, South Carolina, Tennessee, Virginia and Washington.
The Chevrolet Corvette Z06 class action lawsuit was filed in the U.S. District Court for the Eastern District of Michigan - Matanky et al v. General Motors LLC.
The plaintiffs are represented by Hagens Berman, Grossman Roth Yaffa Cohen, the Miller Law Firm, and Schuler Halvorson Weisser Zoller Overbeck.