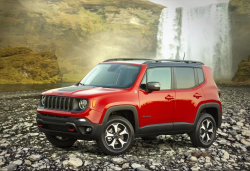 — A 2019 Jeep Renegade recall for 745 vehicles is needed to repair airbag problems in Renegades equipped with Upland trim packages.
Fiat Chrysler says the occupant restraint controllers may not have been calibrated correctly, causing the airbags to deploy incorrectly in crash impacts.
Chrysler says a frontal collision below 16 mph but sufficient enough to trigger a low-output airbag deployment may cause the airbag to deploy at high output.
Instead of the airbag protecting an occupant in a low-speed crash, the airbag could cause more harm than the crash.
Chrysler expected to begin contacting Jeep Renegade owners July 31, 2019, then dealers will reprogram the occupant restraint controllers.
Model year 2019 Jeep Renegade owners may call the automaker at 800-853-1403. Chrysler's Jeep Renegade recall number is V73.
CarComplaints.com has owner-reported complaints about the Jeep Renegade.