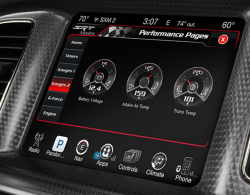 — A Chrysler Uconnect hacking class-action lawsuit is scheduled for an October 2019 trial after the automaker failed to convince the U.S. Supreme Court to intervene.
According to Fiat Chrysler (FCA US), the lawsuit is absurd because it's based on hypothetical future "injuries" based on the possibility the Uconnect infotainment systems could be hacked. The reasoning is similar to suing a tire company because the tire might blow out in the future.
According to the lawsuit that was filed in 2015, multiple Chrysler models are at risk of being controlled by hackers.
2013-2015 Dodge Viper
2013-2015 Ram 1500, 2500 and 3500
2013-2015 Ram 3500, 4500, 5500
2014-2015 Jeep Cherokee and Grand Cherokee
2014-2015 Dodge Durango
2015 Chrysler 200, Chrysler 300
2015 Dodge Charger
2015 Dodge Challenger
Attorneys saw an opening to sue the automaker after media reports said a Jeep Cherokee was hacked through the Harman Uconnect system. In this case, the hackers were professional security researchers who had physical access to the Jeep.
They were able to take control of multiple vehicle functions on a highway outside of St. Louis, eventually causing the Jeep to run off the road.
Based on results of the experiment, Chrysler recalled about 1.4 million vehicles to update the infotainment system software, a fix the National Highway Traffic Safety Administration said repaired any vulnerabilities.
In an effort to get the class-action dismissed, Chrysler argued the case is without merit because federal safety regulators investigated the matter and closed the investigation without taking additional actions.
Considering the lawsuit includes owners and lessees of vehicles that were repaired during the 2015 recall, FCA says the lawsuit over Uconnect 8.4A and Uconnect 8.4AN systems is a waste of time.
On the other hand, the plaintiffs claim they wouldn't have purchased their vehicles if they would have known the infotainment systems could be hacked. Chrysler says that's nonsense because not one member of the lawsuit had their vehicle hacked.
In addition, the automaker says the plaintiffs may be throwing a fit in court about the hypothetical future dangers caused by the vehicles, yet none of the plaintiffs ever stopped driving their vehicles.
FCA has succeeded in getting certain claims dismissed but failed to convince the judge to dismiss the entire case. The automaker then appealed to the U.S. Supreme Court which refused to hear Chrysler's appeal.
CarComplaints.com has owner-reported complaints about the vehicles included in the infotainment system recall: