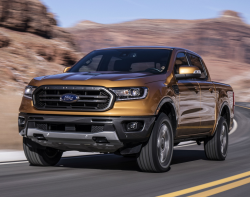 — A Ford fuel economy lawsuit alleges the automaker cheated owners and lessees of 2017-2019 vehicles, including the 2019 Ford Rangers and 2018 Ford F-150 trucks.
The proposed Ford fuel economy class action lawsuit is just one of at least 10 suits that allege Ford sold and marketed vehicles with false mpg ratings.
According to the lawsuit, the 2019 Ford Ranger and 2018 Ford F-150 trucks underwent inaccurate Environmental Protection Agency (EPA) testing that overstated fuel economy.
Illinois plaintiff Ryan Hubert purchased a new 2018 Ford F-150 XL that had a window sticker which allegedly said the miles per gallon ratings were 24 highway, 19 city and 21 combined.
But according to the plaintiff, the mpg ratings were wrong and Ford should have told him before he purchased the truck, although he doesn't say what mpg rating his truck gets in real-world driving.
Lawyers across the U.S. started filing class action lawsuits after Ford told the Securities and Exchange Commission (SEC) in February 2019 the automaker had "become aware of a potential concern involving its U.S. emissions certification process" and Ford "cannot provide assurance that it will not have a material adverse effect on [Ford]."
The automaker then announced it had opened an investigation after employees reported possible problems in September 2018 concerning emissions and fuel economy testing.
Ford hired an outside company to investigate possible problems with "road load" testing, although the automaker said the investigation had nothing to do with emissions "defeat devices."
At that time Ford said there was no evidence to suggest emissions certification or fuel economy labels were wrong on the Ford Rangers or any other models.
According to Ford, road load is the resistance levels used during tests on a dynamometer for fuel economy ratings and to certify the levels of emissions.
Road load uses engineering models and physical track tests referred to as "coastdown testing," which "simulates aerodynamic drag, tire rolling resistance, and drivetrain frictional losses and provides the technical data used to program the test dynamometers that generate EPA fuel economy ratings."
The lawsuit says to perform a coastdown test, the vehicle travels at a high speed on a straight flat road and is shifted into NEUTRAL until it slows to a low speed. Estimates are produced by recording the time the vehicle takes to slow down, modeling the forces affecting the vehicle.
Ford allegedly advertised its 2019 Ranger trucks as the "most fuel-efficient gas-powered midsize pickup in America," while the automaker said the 2019 Ranger provided a "superior EPA-estimated city fuel economy rating and an unsurpassed EPA-estimated combined fuel economy rating versus the competition."
According to the fuel economy lawsuit, Ford allegedly knew about the mpg problems in 2017 but failed to inform consumers.
"Ford intentionally concealed concerns associated with its fuel economy testing and failed to provide any notice to consumers until February 21, 2019—well after Ford had or should have had notice that its fuel economy ratings were not trustworthy or accurate." - Ford fuel economy class action lawsuit
The Ford fuel economy lawsuit was filed in the U.S. District Court for the Central District of Illinois - Hubert, et al., v. Ford Motor Company.
The plaintiff is represented by Sauder Schelkopf, Joel E. Brown, DiCello Levitt Gutzler, and the Miller Law Firm.