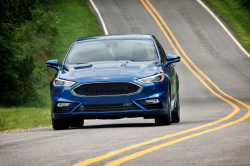 — A Ford Fusion gear shift recall has been issued for about 273,000 cars to fix transmission cable and gear shift lever problems, with more than 259,000 of the model year 2013-2016 Fusions recalled in the U.S.
The cars are equipped with 2.5-liter engines and gear shift cable bushings that attach the shift cables to the transmissions. According to information from Ford, the bushings can degrade and cause the cables to detach from the transmissions.
The problem will cause the gear shift indicator to fool a driver into believing the Fusion is in one gear (or PARK), while the transmission may be in a different gear.
A detached shift cable will allow the driver to move the shift lever to PARK and remove the ignition key even though the Fusion isn't in PARK, creating the perfect rollaway condition.
Ford didn't go into specific details, but the automaker believes three property damage claims are related to the detached shifter cables. In addition, one person has allegedly been injured.
Ford recalled about 550,000 2013-2016 Fusions and 2013-2014 Ford Escapes for the same gear shifter cable bushing problems, but the automaker says the newest recall includes cars that weren't included in the 2018 recall.
In addition to the 259,182 Fusions recalled in the U.S., more than 10,200 cars are recalled in Canada and another 3,765 will be repaired in Mexico.
According to Ford, engineers are still trying to determine why the bushings are falling apart and the best method to repair the problems. The automaker warns Fusion drivers to always use the parking brakes, at least until the gear shift recall repairs are completed.
Ford Fusion customers with questions should call 866-436-7332 and refer to recall number 19S16.
CarComplaints has complaints about Ford Fusion cars - 2013 / 2014 / 2015 / 2016 / All model years