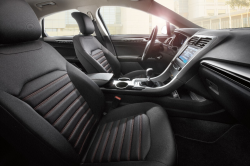 — A Ford Fusion and Lincoln MKZ recall has been issued for 108,400 vehicles because the seat belt assemblies may fail.
The 2015 Ford Fusion and 2015 Lincoln MKZ vehicles have seat belt anchor pretensioners that could degrade the strength of the cables to the point occupants wouldn't be restrained.
This may occur on both front seat belt anchor pretensioners due to heat generated when the pretensioners activate.
The recall is an expansion of a December 2016 recall of 680,000 vehicles for the same problems.
So far Ford believes one injury is related to the defect, a problem that can allegedly be fixed by applying a coating to protect the cables when the pretensioners deploy.
The automaker says 103,374 vehicles are affected in the U.S., about 4,000 vehicles are recalled in Canada and Mexico is home to about 1,023 affected Fusion and MKZ vehicles.
The 2015 Ford Fusions were built between August 1, 2014, to January 30, 2015, and the 2015 Lincoln MKZ vehicles were manufactured from August 1, 2014, to November 21, 2014.
The recall is expected to begin September 9, 2019. Affected customers may call 866-436-7332 and refer to recall number 19S25.
CarComplaints.com has complaints about 2015 Ford Fusions and other model years of Fusions, and complaints about 2015 Lincoln MKZ vehicles as well as other model years of MKZ vehicles.