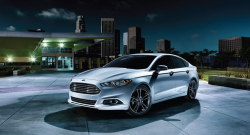 — Ford is recalling more than 680,000 cars in two recalls to fix problems with seat belt pretensioners and faulty seatback welds.
Ford Fusion, Mondeo and Lincoln MKZ Recall
About 680,872 of the cars are the 2013-16 Ford Fusion, 2013-15 Lincoln MKZ and 2016 Ford Mondeo that have front driver and passenger seat belt anchor pretensioner cables that can break in a crash.
Pretensioners help to protect an occupant by quickly and forcefully pulling the occupant into the seat during a crash. The automaker says it knows of two accidents and two injuries associated with breaking cables, a problem Ford blames on increased temperatures that occur when the pretensioners deploy.
According to Ford, about 602,739 of the Fusion and MKZ cars are in the U.S., 35,614 are in Canada, 8,665 in Mexico and 653 in federalized territories and the rest, including the Mondeo, are located outside North America.
Ford dealers will inject a coating into the seat belt anchor pretensioners to protect the cables from the heat caused in a crash.
Parts to fix the cars are currently unavailable, so owners will be notified beginning on January 20, 2017. Remedy parts are expected to be available by the second quarter of 2017, and at that time, owners will be mailed a second notice.
Owners may contact Ford at 866-436-7332 and use recall number 16S42.
Separately, an additional 27 model year 2017 Ford Fusions are recalled to replace the second-row left-rear seatback frames. Ford says the seatback frames may not have been welded properly and can fail in a crash.
Any cargo in the seat can turn into projectiles if the improperly welded pivot pins fail in the seatbacks. While catapulting cargo isn't a good thing, Ford says it doesn't know of any accidents or injuries related to the faulty welds.
The 2017 Ford Fusions were built in a one-day period, from September 27-28, 2016.
The automaker says 25 of the cars are located in the U.S. and another two cars are in Canada.
Ford dealers will replace the seat frames once the recall begins, but owners with questions should call 866-436-7332.
CarComplaints.com has owner-reported complaints about the Ford Fusion, Ford Mondeo and the Lincoln MKZ.