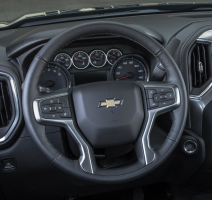 — A GM Takata petition filed with the government claims a recall of trucks and SUVs isn't necessary because the airbag inflators are safe and should be exempt from actions required by the National Highway Traffic Safety Administration (NHTSA).
It's the fourth yearly petition filed by General Motors which claims the recall could cost the automaker $1 billion to replace millions of Takata airbag inflators, including in these vehicles mentioned in GM's fourth petition.
Chevrolet Silverado 1500
GMC Sierra 1500
Chevrolet Silverado 2500/3500
GMC Sierra 2500/3500
Chevrolet Tahoe
Chevrolet Suburban
Chevrolet Avalanche
GMC Yukon
GMC Yukon XL
Cadillac Escalade
Cadillac Escalade ESV
Cadillac Escalade EXT
Model year 2014 vehicles are supposed to be recalled in Zone A areas: Alabama, California, Florida, Georgia, Hawaii, Louisiana, Mississippi, South Carolina, Texas, Puerto Rico, American Samoa, Guam, the Northern Mariana Islands (Saipan) and the U.S. Virgin Islands.
Model year 2011-2014 vehicles are affected in Zone B states: Arizona, Arkansas, Delaware, District of Columbia, Illinois, Indiana, Kansas, Kentucky, Maryland, Missouri, Nebraska, Nevada, New Jersey, New Mexico, North Carolina, Ohio, Oklahoma, Pennsylvania, Tennessee, Virginia and West Virginia.
And in Zone C, model year 2010-2014 GM vehicles are affected: Alaska, Colorado, Connecticut, Idaho, Iowa, Maine, Massachusetts, Michigan, Minnesota, Montana, New Hampshire, New York, North Dakota, Oregon, Rhode Island, South Dakota, Utah, Vermont, Washington, Wisconsin and Wyoming.
Takata inflators are blamed for at least 24 deaths and hundreds of injuries worldwide caused when the metal inflators explode and send shrapnel into occupants.
NHTSA and Takata agreed in 2015 which inflators would eventually be recalled, but GM claims the inflators in the trucks and SUVs are different than those that have maimed and killed people.
Federal safety regulators continue to sit on their hands in response to four years of GM's Takata petitions while safety advocates continue to point out that fact.
According to the Center for Auto Safety, General Motors hasn't provided enough evidence for NHTSA to approve the petition, yet safety regulators just can't make a decision that should have been made long ago. The Center also says NHTSA's wait-and-see attitude ignores the fact there are millions of inflators causing GM customers fears and concerns.
In every petition, GM states the same mantra about the Takata airbag inflators in the trucks and SUVs. The automaker claims the inflators are unique in how the airbags are installed to prevent against moisture.
Scientists proved the primary cause of an exploding Takata inflator is moisture that causes the ammonium nitrate propellant to become unstable. The chemical is inside the metal inflators, but GM claims moisture isn't a problem because of how the airbags are placed in the instrument panels.
The automaker also says it uses window glass that helps to keep the cabins from high temperatures that normally affect the interiors of vehicles. GM further says the airbags are vented to prevent the inflators from building up heat, and the propellant wafers are allegedly used only by GM.
CarComplaints.com will update our website if NHTSA makes a decision about the GM Takata petition.