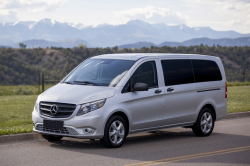 — Mercedes-Benz is recalling nearly 9,500 Metris vans in the U.S. and another 1,390 vans in Canada because they may lose their power steering without warning.
The automaker says there are aluminum bolts that attach the power steering gear assist motors to the gear housings in the 2016-2017 vans. Those bolts can corrode and break, especially in areas where road salt is used in winter.
In the U.S., the recall includes Metris vans sold or ever registered in Connecticut, Delaware, Illinois, Indiana, Iowa, Kentucky, Maine, Maryland, Massachusetts, Michigan, Minnesota, Missouri, New Hampshire, New Jersey, New York, Ohio, Pennsylvania, Rhode Island, Vermont, Virginia, Washington DC, West Virginia and Wisconsin.
Metris vans in other states aren't recalled because Mercedes doesn't believe the bolts will suffer from severe corrosion problems.
Mercedes opened an investigation in January 2018 after customer reports and warranty claims related to customers who complained about losing power steering in European vehicles.
Mercedes was then contacted by Transport Canada about a customer who complained about broken bolts that caused a loss of power steering. Engineers determined the climate in combination with heavy road salt use could cause the aluminum bolts at the steering gear to corrode and break.
The automaker says no Metris complaints have been filed in the U.S., but Mercedes is aware of complaints about European vans.
A driver won't receive any advance warning of a problem but will hear a noise and see a warning light once the power pack separates from the steering gear.
The Metris recall is expected to begin May 27, 2019, when dealers will begin replacing the aluminum bolts with steel bolts.
If you own a 2016-2017 van and have concerns, please call Daimler Vans at 877-762-8267. The aluminum bolt recall number is VS2SCHRALU.