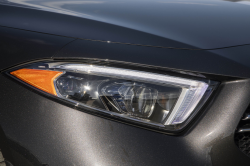 — Mercedes-Benz is recalling 104 model year 2019 CLS450, CLS450 4Matic and CLS53 AMG vehicles with headlights that can be adjusted, a violation of federal safety standards.
Mercedes says the horizontal adjustment screws may not be sealed to prevent owners from altering the adjustments. Federal standards don't allow horizontal adjustments to headlights because it could affect visibility or blind other drivers.
Mercedes dealers will seal the horizontal headlight adjustment screws but the automaker doesn't know when that will occur.
The first notices have been mailed to owners and second letters will be sent when dealers are ready to make repairs.
Drivers of 2019 Mercedes-Benz CLS450, CLS450 4Matic or CLS53 AMG vehicles may call 800-367-6372.