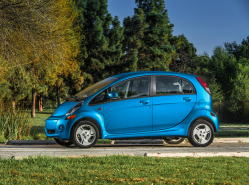 — Two Mitsubishi i-MiEV brake vacuum pump recalls are under investigation by the National Highway Traffic Safety Administration (NHTSA) even though the cars were allegedly already repaired.
Mitsubishi recalled some of the cars in 2013 and 2014 to fix problems that were causing failed brake vacuum pumps, but NHTSA says it has questions about 2010-2017 i-MiEVs.
One recall included repairs by Mitsubishi dealers to replace the vacuum pumps to solve problems of extended stopping distances when drivers applied the brake pedals.
The other recall had dealers reprogramming control units that controlled the brake vacuum pumps, and in some cases the pumps would be replaced with redesigned pumps.
The government says it needs to investigate the recall processes and repairs because three i-MiEV owners have complained about failed vacuum pumps that caused the power steering assistance to disappear. All three cars were repaired under the previous recalls by having the pumps replaced and the control units reprogrammed.
CarComplaints.com will update our website with NHTSA's findings.