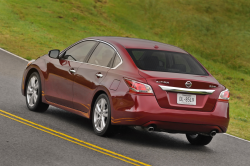 — Nissan Altima rear lower control arm failures are under investigation in Canada after complaints were filed about components that corroded and fractured.
Transport Canada opened the investigation into 2013-2014 Altimas after receiving 17 complaints in the past 11 months.
Canadian investigators are looking into claims the rear lower control arms suffer from premature corrosion that causes the control arms to separate from their attachment points. As can be imagined, the problem seems to be worse in areas where road salt is used due to icy road conditions.
In addition, some Altima owners claim they had trouble controlling the cars once the control arms failed. However, Canadian regulators aren't aware of any crashes caused by the fractures.
Although the 2013-2014 Nissan Altima lower control arm investigation is ongoing, the automaker did announce a rear lower control arm replacement program for about 8,000 model year 2013-2014 Altimas in Canada. And in the U.S., the replacement program includes about 173,000 model year 2013 Nissan Altimas in 22 states and the District of Columbia.
The same month Canadian regulators opened their control arm investigation, the U.S. National Highway Traffic Safety Administration (NHTSA) expanded its own investigation into 2 million Altimas.
About 140 U.S. complaints have been filed by Nissan Altima owners about the rear lower control arms, especially in areas where road salt is applied in the winter months.
Input from Nissan shows there have been Altima drivers who complained about control arms outside areas where road salt is often used, but the automaker says those complaints are limited.
Nissan also claims separated lower control arms allegedly won't make contact with braking components or the roads, leaving drivers with the ability to safely stop the cars.
Canadian Nissan Altima owners who want to learn more about the rear lower control arm replacement program may call 855-835-3854.
And if you're a Canadian owner of a 2013-2014 Nissan Altima and believe your car has suffered rear lower control arm problems, please let Transport Canada know by calling 800-333-0510 or by visiting Transport Canada's website.
Nissan Altima Complaints - 2013 / 2014 / All model years