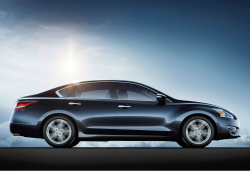 — A Nissan Altima lower control arm replacement program will provide car owners in salt belt states and Canada with free repairs for damage caused by cracks, rust and corrosion.
Nissan says the Altima lower control arm replacement campaign will focus on areas that use road salt in the winter, or what are known as salt belt states.
Repairs will be made on more than 176,000 model year 2013 Nissan Altimas in 22 states and the District of Columbia, and more than 8,000 model year 2013-2014 Altimas will be repaired in Canada.
According to the automaker, the Altima rear lower control arms (suspension links) can crack from normal use of the cars, but corrosion from road salt can make the cracks worse. The rear lower control arms may separate at the areas of the bushing joints.
If a lower control arm separates, an Altima driver may hear rattling or knocking noise from the rear of the car. A driver may also notice the rear wheels inclined outward too much.
The automaker says about 140 Altima owners have complained about the lower control arms, but the majority of the complaints have been filed about corrosion caused by road salt. Nissan says inspections of the cars show only a limited number of Altimas have been affected outside salt belt states.
The campaign isn't a recall and won't be treated like one by the National Highway Traffic Safety Administration (NHTSA), the agency currently investigating lower control arm failures in more than two million model year 2013-2018 Nissan Altimas.
Nissan plans on beginning the campaign in late-2019, but the automaker says if the components do separate while driving, the control arms won't contact the road or any components related to the brakes. Allegedly the cars remain controllable and can be safely stopped.
Altima owners will be contacted once Nissan dealers are ready to replace the lower control arms.
Customers who want to learn more about the campaign should call Nissan in the U.S. at 800-867-7669 or in Canada at 855-835-3854.
CarComplaints.com will update our website when Nissan releases details about the Altima lower control arm replacement program.
Nissan Altima Complaints - 2013 / 2014 / 2015 / 2016 / 2017 / 2018 / All model years