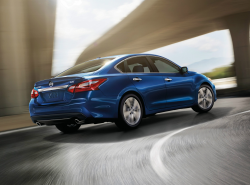 — Nissan Altima lower control arm problems that caused a federal investigation have now caused an upgraded and expanded investigation which includes more than 2 million cars.
The National Highway Traffic Safety Administration (NHTSA) opened the original investigation in December 2018 after complaints about rear lower control arm failures in 2013 Nissan Altimas. Safety regulators said at the time about 374,000 Altimas were included in the investigation and only 2013 model year cars were the focus.
NHTSA says the upgraded investigation now includes 2,043,354 model year 2013-2018 Altimas.
The government decided to add 2014-2018 cars because Nissan indicated those model years include a shared rear lower control arm design.
Nissan says it changed the design in January 2018 to make the lower control arms more durable, something that allegedly caused a significant improvement to the components.
The extra strength is needed because the original lower control arms develop cracks from normal use. The cracks then grow due to corrosion from road salt used in states with cold weather.
According to Nissan, Altima owners in those salt belt states will be notified of a campaign conducted by Nissan to replace the rear lower control arms, but only model year 2013 cars are included.
Nissan says about 176,000 model year 2013 Altimas will be eligible for free repairs in 22 states and the District of Columbia, while more than 8,000 model year 2013-2014 Altimas will be included in Canada.
Components removed from the 2013 Altimas will be used to study other possible repairs that may eventually be performed. In addition, Nissan claims there are no safety dangers even if the lower control arms separate, but NHTSA says the expanded and upgraded investigation will look into those safety claims.
The automaker says the rear lower control arm problems haven't caused any crashes, injuries or deaths.
However, Nissan says Altima drivers should be aware of knocking or rattling noise coming from the rear of the cars. If noise is heard, drivers should check the incline of the rear wheels to ensure the wheels/tires aren't inclined outward in an unusual way.
CarComplaints.com will update our website with results of the 2013-2018 Nissan Altima lower control arm investigation.
Read what Altima drivers say about their cars:
Nissan Altima Complaints - 2013 / 2014 / 2015 / 2016 / 2017 / 2018 / All model years