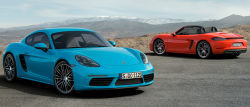 — A Porsche 718 recall has been ordered for 2017-2019 models that may leak fuel in crash incidents.
The automaker says it discovered the problem during a special frontal crash test that indicated the lower longitudinal crash beam component could slice through the bulkhead wall.
Porsche says fuel can leak if the crash beam component penetrates the wall of the bulkhead in more than 14,300 vehicles. However, no injuries or crashes have been reported.
The National Highway Traffic Safety Administration hasn't announced details about the Porsche 718 recall, but dealerships will need to attach additional rivets to the lower longitudinal members.
A Porsche 718 owner will likely need to wait an hour and a half for a technician to make the repairs.
Porsche 718 customers with questions should call 800-767-7243.