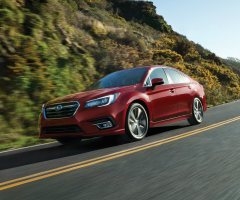 — Subaru is recalling more than 2,200 Legacy and Outback vehicles that may have spot weld problems which could mean the automaker buying back the vehicles.
Every affected owner of a 2019 Subaru Outback or Legacy will have choices if faulty welds are discovered.
Subaru dealers will inspect the vehicles for "B" line identification marks and if the affected parts were produced on that line, the spot welds will be inspected by representatives of Subaru.
The vehicle will be returned to the Subaru manufacturing facility if any welds were improperly applied.
If a vehicle is confirmed as containing an affected part, the customer will have the option of exchanging the vehicle for another one, having Subaru repurchase the faulty vehicle or having the vehicle repaired by the manufacturing plant.
The problems are spot welds located on the ducts below the cowl panels. The strength of the vehicle body can be decreased if the spot welds were improperly applied.
Subaru says an employee of the body shop heard abnormal noise from the duct area in June. The next day the supplier determined a welding machine located on the "B" manufacturing line was defective, and engineers for Subaru traced the problem to Legacy and Outback vehicles built from May 31, 2019, through June 8, 2019.
The supplier explained the spot welder tip is cleaned and re-shaped by a grinding machine, but in this case the machine may have been blocked by excess metal chips and powder. This prevented the spot welder from correctly applying the welds.
More than 2,100 of the recalled vehicles are in the U.S. and more than 160 are recalled in Canada.
The Legacy and Outback recall is expected to begin in the U.S. on July 26, 2019.
Affected customers may call the automaker at 844-373-6614 and ask about recall number WUH-93.
Read what drivers have told CarComplaints.com about the Subaru Legacy and Subaru Outback.