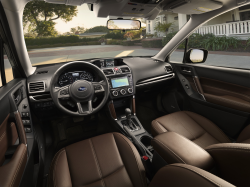 — A Subaru Forester passenger airbag sensor recall will allegedly fix problems that cause the airbag warning lights to indicate the systems are turned off when they should be active.
All (366,282) of the 2015-2018 Foresters are equipped with heated seats.
Subaru says that due to a decrease in contact pressure between terminals in the occupant detection system (ODS) sensor mat harness, an unstable electrical connection can occur.
In the unstable condition, the ODS may not determine if a passenger is in the front seat.
This will cause the airbag warning light to illuminate and the passenger airbag will deactivate even though the seat is occupied. This means no passenger airbag protection in a crash.
When the Forester ignition is turned off and back on, the system should reset and correct the faulty condition, until it occurs again.
Forester occupants should be aware of illuminated airbag warning lights and messages that say, "PASSENGER AIR BAG OFF."
The problem goes back to April 2016 when Subaru received a complaint about a 2016 Forester airbag problem. The automaker issued a service bulletin (07-108-16) with diagnostic procedures for 2014-2016 Forester passenger seat cushions that may have been exposed to high concentrations of liquid.
In January 2017, Subaru received the first technical report alleging a Forester airbag warning light was illuminated with an occupant detection sensor mat diagnostic trouble code. Engineers collected the affected parts but couldn't determine what caused the problem.
By June 2017, Subaru had received 22 more technical reports from the U.S. and opened an investigation with the supplier. Both companies believed the airbag warning light was illumined due to liquid, but the ongoing investigation indicated other factors could cause the problems.
In August 2019, the National Highway Traffic Safety Administration (NHTSA) opened a formal investigation into 2016-2018 Subaru Foresters. The government said 51 complaints were filed alleging the airbag sensors caused the PASSENGER AIRBAG OFF warning lights to illuminate.
Finally in September 2019 the real cause was determined, and Subaru also determined the affected vehicles were built between January 20, 2015, and August 1, 2017.
Subaru isn't aware of any crashes or injuries related to the condition, but the automaker has received 233 complaints about 2015-2018 Forester passenger airbags, and all but one of those reports are about vehicles with heated seats.
Subaru says parts aren't currently available, but owners will be notified beginning November 29, 2019, then second notices will be mailed when replacement airbag sensor mat harnesses are available.
Forester owners with questions should call 844-373-6614 and refer to passenger airbag sensor recall WUM-98.
In addition to the federal investigation and the recall, a recent Subaru Forester class action lawsuit alleges customers pay as much as $1,000 to repair the passenger airbag sensor problems.
Subaru Forester Airbag Complaints - 2015 / 2016 / 2017 / 2018