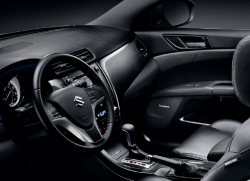 — A Suzuki Kizashi recall for more than 23,500 cars is necessary because the front passenger airbags may not deploy as designed.
The 2010-2013 Kizashi vehicles may have occupant classification systems that can misclassify an adult as a child and deactivate the airbags.
Suzuki received a report in 2011 about the problem but couldn't retrieve the seat cushions for examination. Three more reports were filed in 2012 which caused Suzuki to meet with the supplier, Continental.
An investigation showed the problem could come and go and correct itself if the adult changed positions in the seat.
Six more reports came in about deactivated airbags at the same time Suzuki was investigating airbags that failed because leather was shrinking on passenger seats. The investigation caused the automaker to recall 41,000 cars and SUVs in April 2019 for the leather issues.
Engineers finally determined the occupant classification system sensor mat could misclassify a small adult as a child, therefore deactivating the passenger airbag.
A driver will notice a warning message about the passenger airbag being off with an adult in the seat.
According to Suzuki, more than 21,000 of the recalled cars are in the U.S., while another 2,475 will be repaired in Canada.
Suzuki doesn't know when the recall will begin because the automaker doesn't know how to repair the problem, yet.
Concerned Kizashi customers in the U.S. may call 800-934-0934. Suzuki's number for this recall is C5.
CarComplaints.com has complaints about Suzuki Kizashi cars and other Suzuki models.