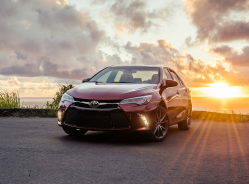 — A Toyota Camry air conditioning smell class action lawsuit has been certified for California owners and lessees of 2012-2015 Camrys. The lawsuit was filed by Camry drivers Gloria Ortega and Alfred Salas, both who claim the smells are enough to scare anyone out of the cars.
Plaintiff Ortega says she owns a 2012 Toyota Camry that she uses each day along with the air conditioning. But the air conditioner allegedly emits an old moldy smell Ortega claims is like dirty socks. However, she says the smell dissipates "within seconds" after she turns the air conditioning to "recirc" mode.
Plaintiff Salas owns a 2014 Camry and uses the air conditioning system every day, and each day allegedly has to cope with a smell "like dried-up urine in a fabric that's been out in the sun."
Once the air conditioning "kicks in" the odor disappears and "completely" goes away after ten minutes. However, the plaintiff claims the "stench" is strongest after using the air-conditioning.
According to the lawsuit, Camry occupants get sick from the mold that builds up on the evaporators that collect heat from the passenger cabins. In addition to moisture, the plaintiffs claim outside vents allow dead insects and leafy materials to enter the air conditioning systems.
Toyota has allegedly known about the air conditioning smells because dealers have been sent technical service bulletins about owners who complained about bad odors.
The judge ruled there is no doubt Ortega's Camry is fit for its ordinary purpose because she has driven tens of thousands of miles over a period of years, but the same can't be said of the Camry owned by plaintiff Salas.
The smell described by Salas is different, typically will last a longer time and he says he must keep the windows cracked open while the air conditioning is on.
Judge Fernando M. Olguin also ruled there is evidence to support the argument of design defects in the Camrys, although Toyota denies it. According to the ruling, there are "triable issues regarding the existence of a design defect that causes the foul odors at issue, and whether such odors are material."
The Toyota Camry air conditioning smell class action lawsuit was filed in the U.S. District Court for the Central District of California - Salas, et al., v. Toyota Motor Sales, U.S.A. Inc., et al.
The plaintiffs are represented by Capstone Law APC.
CarComplaints.com has complaints about bad smells in Toyota Camrys: