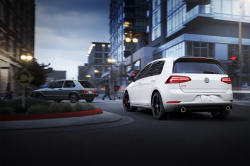 — The U.S. Environmental Protection Agency (EPA) has taken further action against Volkswagen after determining 2013-2017 gasoline-powered vehicles were sold with incorrect fuel economy labels.
The EPA says Audi, Bentley, Porsche and Volkswagen will revise fuel economy estimates and forfeit emissions credits for under-reporting emissions.
Regulators with the EPA and the California Air Resources Board (CARB) found problems with the gasoline vehicles during an investigation of emissions defeat devices in diesel models.
Volkswagen has recalled millions of vehicles worldwide after getting caught cheating on emissions tests conducted on multiple diesel models. The automaker was found guilty of installing illegal software called "defeat devices" that altered emissions levels.
Nitrogen oxide emissions appeared within standards during lab tests, but once the diesel vehicles were on the roads nitrogen oxide levels were 40 times above legal limits.
Regulators claim illegal software concealed in the gasoline-powered models causes the transmissions to shift gears during official emissions tests which optimized fuel economy and emissions levels. However, the EPA says the same benefits aren't seen during normal driving conditions.
About 1 million Audi, Bentley, Porsche and Volkswagen vehicles in the U.S. are equipped with the software, and out of those vehicles VW found about 98,000 cars lost about 1 mpg once the software was deactivated.
Although the total number of credits hasn't been locked in, Volkswagen will forfeit emissions credits under the EPA's emissions program and in the federal Corporate Average Fuel Economy program.
While federal regulators are now fully on the case, they weren't for years as Volkswagen continued to manufacture and sell vehicles that should have never been certified for sale. And it wasn't the EPA which originally discovered discrepancies in VW's emissions reporting.
The whole scheme was exposed by researchers at the University of West Virginia who started asking questions based on emissions test results.
The EPA vowed to improve its processes after the agency was audited as a result of emissions oversight failures.