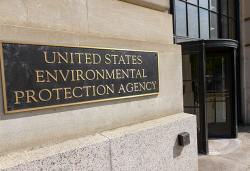 — The Office of Inspector General (OIG) for the Environmental Protection Agency (EPA) has closed an audit that was opened after the EPA failed for years to catch Volkswagen's emissions fraud.
The investigation was opened after it was realized the EPA didn't catch Volkswagen's emissions scheme for at least seven years. A total of about 600,000 vehicles passed official EPA emissions testing as the vehicles were emitting nearly 40 times the legal levels of nitrogen oxides.
As recognized by the OIG, it wasn't the EPA that caught the fraud that continued for years. It was researchers at West Virginia University who noticed problems with what the EPA said about the vehicles and what researchers were seeing in their lab.
Only after third-party researchers contacted the government did the EPA determine Volkswagen used "defeat devices" in its diesel vehicles. The devices fully activated emission controls during regulatory testing but deactivated the controls during normal driving.
The EPA gave multiple reasons why it did not detect VW's fraud earlier. According to Volkswagen, light-duty diesel vehicles were a very small fraction of the total vehicle population and "did not merit extraordinary oversight."
The EPA also said it didn't have the necessary controls to detect VW's sophisticated defeat devices.
And finally, the EPA said it didn't catch the illegal activity because Volkswagen lied about the presence of the illegal software. This is a good way for environmental regulators to admit they weren't doing their job but were simply believing anything an automaker claimed.
EPA investigators allege new controls have been put into place to catch emissions cheating, something that will at least reduce the chance of another automaker pulling what Volkswagen did.
According to the EPA audit, multiple variations of tests are now conducted that not only measure emissions levels in the lab, but also on the road. The OIG says it found new testing methods have already detected non-compliance by other automakers.
Although the OIG found the new internal controls work well, investigators did find areas the EPA still needs to improve. Investigators determined certain controls can be further strengthened to track compliance with emissions regulations.
The OIG made seven recommendations to improve all aspects of emissions testing, even by updating email inboxes that are used for feedback about the subject of emissions.