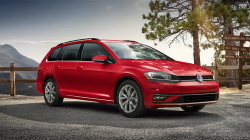 — Problems with rear coil springs in Volkswagen vehicles have caused a recall of more than 56,000 popular models at risk of the springs breaking.
2017-2019 Volkswagen Golf Sportwagen
2019 Volkswagen Jetta
2015-2019 Volkswagen Golf
2018-2019 Volkswagen Tiguan
VW recalled 6,300 vehicles in February for the same problem caused by the coil springs being made with the wrong materials that didn't meet specifications.
A fractured rear coil spring can damage the rear tires and cause drivers to lose control of their vehicles. In addition, debris may be left on the road and cause hazards to anyone or any vehicles on the road.
Volkswagen dealers will replace the rear axle coil springs when the recall begins April 19, 2019.
Golf, Jetta and Tiguan owners may call 800-893-5298 and refer to recall number 42J5.
CarComplaints.com has complaints about the Volkswagen Golf, Golf Sportwagen, Jetta and Tiguan.