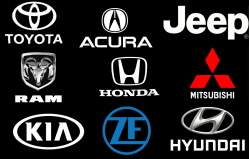 — A ZF TRW airbag lawsuit alleges the airbag control units may fail in 12.3 million vehicles manufactured by multiple automakers.
The proposed class action lawsuit includes all U.S. consumers who purchased or leased any of these vehicles.
2014-2019 Acura RLX
2014-2019 Acura RLX Hybrid
2012-2014 Acura TL
2015-2017 Acura TLX
2012-2014 Acura TSX
2014 Acura TSX Sport Wagon
2012-2013 Acura TSX Sportwagon
2010-2011 Dodge Nitro
2009 Dodge Ram 1500
2010 Dodge Ram 3500
2012-2019 Fiat 500
2015-2017 Jeep Compass
2010-2012 Jeep Liberty
2015-2017 Jeep Patriot
2010-2018 Jeep Wrangler
2013-2015 Honda Accord
2014-2015 Honda Accord Hybrid
2012-2015 Honda Civic
2012-2015 Honda Civic GX
2012-2015 Honda Civic Hybrid
2012-2015 Honda Civic SI
2012-2016 Honda CR-V
2012-2017 Honda Fit
2013-2014 Honda Fit EV
2012-2014 Honda Ridgeline
2013-2019 Hyundai Sonata
2013-2019 Hyundai Sonata Hybrid
2010-2013 Kia Forte
2013 Kia Forte Koup
2013-2019 Kia Optima
2012-2016 Kia Optima Hybrid
2014 Kia Sedona
2013-2017 Mitsubishi Lancer
2013-2015 Mitsubishi Lancer Evolution
2014-2015 Mitsubishi Lancer Ralliart
2013-2016 Mitsubishi Lancer Sportback
2013 Mitsubishi Outlander
2009-2012 Ram 1500
2010-2012 Ram 2500
2010-2012 Ram 3500
2011-2012 Ram 4500
2011-2012 Ram 5500
2012-2018 Toyota Avalon
2013-2018 Toyota Avalon Hybrid
2011-2019 Toyota Corolla
2017-2018 Toyota Corolla iM
2011-2013 Toyota Corolla Matrix
2012-2017 Toyota Sequoia
2012-2019 Toyota Tacoma
2012-2017 Toyota Tundra
Seven plaintiffs filed the airbag failure lawsuit against Kia, Hyundai, FCA US (Chrysler), Mitsubishi, Honda, Acura, Toyota and parts supplier ZF TRW.
None of the plaintiffs claim their airbags failed, but if they would have known about the allegedly defective airbag control units, they wouldn't have purchased their vehicles, or they wouldn't have paid as much as they did for them.
According to the proposed class action lawsuit, the automakers and ZF TRW concealed deadly airbag defects in 12.3 million U.S. vehicles.
The plaintiffs claim the airbag control units are defective because the "application-specific integrated circuits" within the units are defective.
The control unit monitors signals from crash sensors in the front of the vehicle and detects a crash which triggers the seat belt pretensioners and airbags within milliseconds of a crash.
The seat belt pretensioners remove slack from the seat belts to help secure occupants firmly into the seats, then milliseconds later the occupant is released to be protected by the airbags.
However, the lawsuit alleges the application-specific integrated circuits may suffer from electrical overstress from too many electrical signals during crashes. This causes the airbag control units to fail, which in turn cause failures of the seat belt pretensioners and airbags.
The lawsuit references 12.3 million vehicles because that's how many vehicles are now included in a federal investigation opened in 2018 by the National Highway Traffic Safety Administration (NHTSA).
Federal safety regulators originally opened the investigation after reports of four deaths and six injuries from airbag failures in Hyundai and Kia vehicles equipped with the suspect airbag control units.
About a month later NHTSA upgraded and expanded the investigation to include 12.3 million vehicles from the automakers named in this lawsuit.
ZF TRW and the automakers have allegedly known about airbag failures and defective airbag control units since at least 2011. The plaintiffs say more than 12 million vehicle owners and lessees are stuck with diminished vehicle values and are exposed to unreasonable safety risks.
The plaintiffs allege the automakers and the supplier violated the Magnuson-Moss Warranty Act, California consumer protection statutes and common law claims of fraud and unjust enrichment.
The ZF TRW airbag lawsuit was filed in the U.S. District Court for the Central District of California - Baldwin, et al., v. Kia Motors America, Inc., et al.
The plaintiffs are represented by MLG, and Kaplan Fox & Kilsheimer.