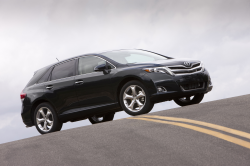 — A Toyota Venza airbag recall has been ordered for about 360,000 SUVs due to wires that may break in the doors.
The 2009-2015 Toyota Venzas have sensors in the driver-side front doors that are connected to the airbag control units by electrical wires.
The airbag warning light could illuminate and the sensor in the door could fail if one of the electrical wires breaks.
That will disable the driver-side curtain shield airbags along with the side airbags, leaving drivers unprotected in crash impacts.
Specifically, Toyota says there is a sensor inside the driver's side door connected to the airbag electronic control unit by a pair of twisted wires in a harness routed from the door to the vehicle body through a grommet.
But due to a bigger difference between the wire harness length and grommet length, there is a tighter bending radius for the wire harness inside the grommet.
According to the automaker, the twisted wires could rub against the grommet and eventually break. This can set a diagnostic trouble code, trigger the airbag warning light and disable the curtain shield and side airbags.
The U.S. Toyota Venza airbag recall includes about 279,000 SUVs and a recall in Canada includes nearly 80,000 Venza vehicles.
Toyota dealers may replace the driver-side front door wire harnesses once the recall begins May 31, 2021.
To learn more about the Toyota Venza airbag recall, contact the automaker at 800-331-4331. Toyota's numbers for this recall are 21TB01 / 21TA01.