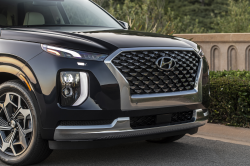 — A Hyundai Palisade windshield wiper motor recall has been announced following more than 50 reports of failed windshield wipers on the 2020-2021 SUVs.
About 123,000 model year 2020-2021 Hyundai Palisades are affected by the recall.
The Hyundai Palisade windshield wiper motor could work part of the time or completely stop working, especially if snow or ice is blocking the wipers.
In August 2020, Hyundai noticed increase warranty claims for windshield wiper-related problems on certain 2020-2021 Hyundai Palisade SUVs in the U.S. More windshield wiper failures were reported as engineers tried to find the root cause of the motor failures.
Hyundai worked with the supplier and the National Highway Traffic Safety Administration as more and more wiper motors failed.
The supplier said it discontinued the P63H wiper motor in December 2020 and replaced it with a new version (PS56) that was already being used in other models.
Engineers finally found evidence the P63H windshield wiper motor's internal gear could become damaged under external forces such as ice or snow.
Out of 18 wiper motors that were analyzed, 14 failed due to broken gears or stripped gear teeth.
While Hyundai has confirmed 57 reports of windshield wiper failures in the U.S. from July 31, 2019, through June 8, 2022, there are no confirmed crashes or injuries.
Hyundai is still working on how it will fix the windshield wiper problem, but Palisade owners should watch for recall letters in October 2022.
Owners who have questions about the Hyundai Palisade windshield wiper motor recall should call 855-371-9460.
Hyundai's windshield wiper recall number is 233.