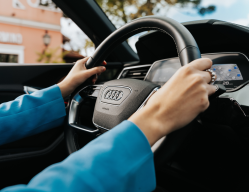 — An Audi turbocharger recall has closed down a federal investigation that was opened following 825 reports about turbocharger problems in these vehicles.
2013-2016 Audi A8
2013-2016 Audi S6
2013-2016 Audi S7
2013-2016 Audi S8
2013-2016 Audi RS7
The original Audi investigation was opened after the National Highway Traffic Safety Administration received about 60 complaints about the vehicles equipped with 4.0L twin-turbocharged engines.
The Audi turbo problems caused the engines to stall while driving because of clogged oil strainers. The strainers should remove particles and carbon deposits from the turbocharger oil. But the clogged strainers caused the turbochargers to become starved of oil which caused the turbochargers to fail.
Audi owners also complained the oil strainers were tough to work on because of their location deep inside the engines.
During the investigation, NHTSA also learned about 600 warranty claims regarding turbo failures.
In March 2022, Audi announced a turbocharger recall of about 26,000 vehicles to replace the 30 micron mesh oil strainers with 90 micron mesh oil strainers. In addition, Audi had already installed the different strainers on 2017-2018 vehicles.
However, NHTSA upgraded the Audi turbocharger investigation even though the vehicles had been recalled.
The government closed the turbocharger investigation because the new oil strainers seem to prevent turbo failures. NHTSA also says the new turbocharger oil strainers don't seem to cause any problems with the vehicles.