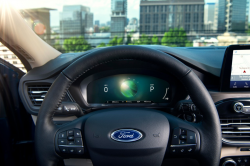 — Ford hybrid engine problems have caused a second recall of Ford Escape Hybrid, Ford Maverick Hybrid and Lincoln Corsair Hybrid vehicles.
More than 125,000 recalled 2020-2023 Escape, 2022-2023 Maverick and 2021-2023 Lincoln Corsair hybrids are equipped with 2.5L hybrid electric vehicle (HEV) or plug-in hybrid electric vehicle (PHEV) engines.
Ford says the engine can prematurely fail and send oil and fuel vapors into the engine compartment and build up near hot engine or exhaust components.
This is a good recipe for an engine compartment fire.
The Ford hybrid engine problems caused a recall in July 2022 of about 100,000 model year 2020-2022 Ford Escape, 2021-2022 Lincoln Corsair and 2022 Ford Maverick hybrid vehicles.
At that time, Ford was aware of at least 23 engine compartment fires, but since the recall another three fires have been reported. And those fires occurred on vehicles that were repaired under the July 2022 hybrid recall.
This latest Ford hybrid engine problem recall expands and replaces the July 2022 recall.
Ford hybrid owners should quickly park and shut off the vehicles if they see smoke, notice a change in vehicle power or if they hear abnormal engine noise.
"Isolated engine manufacturing issues have resulted in 2.5L HEV/PHEV engine failures involving engine block or oil pan breach. In the event of an engine block or oil pan breach, the HEV/PHEV system continues to propel the vehicle allowing the customer to continue to drive the vehicle." — Ford
Following 23 reports of fires and thermal incidents, Ford recalled the hybrid vehicles equipped with 2.5L engines built on or before July 7, 2022.
Ford dealerships were told to modify the under-engine shields and active grille shutters to redirect and drain the engine compartment of engine oil and fuel vapors to reduce the chance for engine compartment fires.
However, Ford received three reports about engine compartment fires on hybrid vehicles that had been repaired according to Ford's recall repair instructions.
Interim recall letters will be mailed June 12, 2023, regarding the Ford hybrid engine problems and how the automaker is trying to create a repair for the engine problems.
Second letters will be mailed once Ford comes up with a fix for the hybrid engine problems, likely in the third quarter of 2023. All Escape, Maverick and Corsair hybrid vehicles that were recalled in 2022 will need to be brought back to dealerships.
For questions about Ford hybrid engine problems or the recall, contact Ford at 866-436-7332. The Ford hybrid engine fire recall number is 23S27.