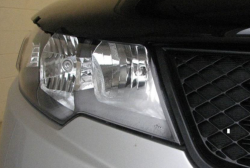 — Kia Telluride dim headlights have caused a lawsuit that alleges Tellurides and Hyundai Palisades are equipped with headlights that do not seal out moisture and humidity.
The allegedly defective seals allow condensation to cause problems with the headlight assembly which causes dim headlights.
The lawsuit also alleges the high-beam headlights don't properly illuminate objects and the road because they aren't aimed properly and they become foggy.
Good examples include what these Kia Telluride owners told CarComplaints.com.
"I have complained dozens of times to my dealer, and the Kia dealer in Pensacola. Also have filed complaints with KIA. They have failed to fix the problem. Nighttime visibility with the headlights on this 'S' trim Telluride is the worst of any car that I have owned or driven. There is absolutely no side vision at night. You are always turning blind. On low beams it illuminates only about 40' of the road ahead of you. This problem is so bad, we just drive our Toyota at night. KIA REFUSES TO ADDRESS THIS PROBLEM. They are well aware of it."
"Headlights give low vision on hills and turns - there is limited visibility in front. If there is a person or animal on side of road, they could step out in front of us without us seeing them or giving us time to stop... Ours is stuck in low beam and although the light display shows high beam, it will not switch. It was taken to a local dealer and they do not know what is wrong. It's very hard to drive after dark, as well as it putting our family and others into a dangerous situation. There needs to be a recall before someone is killed."
The Hyundai and Kia headlight class action lawsuit was filed by Minnesota plaintiff Patrick Maranda, who purchased a new 2022 Hyundai Palisade in 2021, and by South Carolina plaintiff Robert Ewing, who purchased a new 2022 Kia Telluride in July 2022.
The plaintiffs assert their vehicles had problems with the headlights but dealerships didn't fix the issues.
"However, discovery will show that the Headlights installed in the Class Vehicles have insufficient sealing and improper wiring, causing the Headlight Assemblies, including the high beams, low beams, daytime running lights (DRL), and fog lamps (FL), to absorb too much moisture and begin to dim, become improperly aimed, and ultimately and often suddenly, fail." — Hyundai/Kia headlight class action lawsuit
The Kia Telluride comes with a 6-year/60,000-mile warranty and the Hyundai Palisade comes with a 5-year/60,000-mile warranty. But the two owners who filed the class action lawsuit allege dealerships will often charge for headlight repairs even when the vehicles are under their warranties.
And if dealers do replace the headlight components, the replacement headlight assemblies are allegedly just as defective as the original parts.
Hyundai and Kia have allegedly known about the dim headlights and other problems since 2019 but the automakers have continued to market and sell the SUVs.
According to the plaintiffs, Hyundai and Kia concealed the alleged headlight problems because the plaintiffs weren't warned about the dim headlights.
The Hyundai and Kia dim headlights lawsuit was filed in the U.S. District Court for the Central District of California: Patrick Maranda, et al. v. Hyundai Motor America, Inc., et al.
The plaintiffs are represented by Capstone Law APC, and Berger Montague PC.