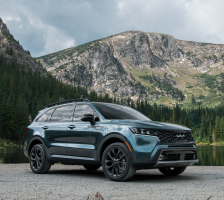 — A Kia Sorento class action lawsuit alleges an August 2023 recall may not be adequate to fix the backup camera mounting clips in these Kia Sorentos.
2022-2023 Kia Sorento
2022-2023 Kia Sorento Hybrid
2022-2023 Kia Sorento Plug-in Hybrid (PHEV)
The plaintiff who sued asserts her Nissan Sorento is included in the backup camera mounting clip recall, but she sued for more than $5 million because the recall may not truly fix the mounting clip problem.
In addition, the plaintiff argues dealing with the Nissan Sorento recall will take up her time.
The Kia Sorento recall referenced in the class action lawsuit includes about 145,000 Sorentos in the U.S. because the rearview camera mounting clips could break.
The camera will likely continue working, but the backup camera may move out of position and not present a driver with an accurate rearview image as required by federal standards.
When the Kia Sorento, Sorento Hybrid and Sorento Plug-in Hybrid recall was announced, Kia knew of more than 120 reports of cameras that fell out of position or were loose.
However, there had been no reports of crashes or injuries.
Kia blames the mounting clip problem on plastic housing mounting clip material that is too stiff, allowing the clips to break.
To repair the Sorentos, dealers are to replace the rearview camera housings, and recall letters were to be mailed October 27, 2023.
The Kia Sorento class action lawsuit was filed in the US District Court for the Central District of California: Vermell Singletary v. Kia America, Inc.
The plaintiff is represented by Poulin Willey Anastopoulo, LLC.