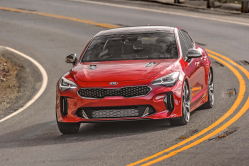 — A Kia Stinger recall involves more than 18,200 cars equipped with fuel pumps that may fail.
Kia says the 2018-2021 Stinger high-pressure fuel pumps have fuel control valve plungers that may stick.
This can cause the Kia Stinger to lose drive power from over-pressurization of the pump.
"Misalignment of the fuel control valve plunger in the high pressure fuel pump can result in uneven wear. Over time, this wear can cause the plunger to remain in a stuck open condition. If the plunger remains in the stuck open condition, over-pressurization of the high pressure fuel pump can occur." — Kia
The Kia Stinger fuel pump issue was discovered in May during a routine review which found an increase in replacement claims for the high-pressure 2018-2021 Stinger fuel pumps.
Kia collected failed fuel pumps and found "vehicle hesitation followed by ability to accelerate with 2,000 RPM engine speed limitation noted. Loss of motive power while driving at highway speed could not be duplicated."
Later, engineers did confirm a loss of motive power could occur while driving at highway speeds.
A Stinger driver may notice an illuminated Check Engine Light if the fuel pump problem occurs.
Kia Stinger fuel pump recall letters will be mailed November 10, 2023.
Kia dealers will update the software logic of the engine control units to prevent power loss if the fuel pumps have trouble while driving. In addition, the fuel pumps will be inspected and possibly replaced.
Owners should ask about reimbursements if they paid for fuel pump repairs or replacements.
Kia Stinger owners with concerns may call 800-333-4542. Kia's Stinger fuel pump recall number is SC281.