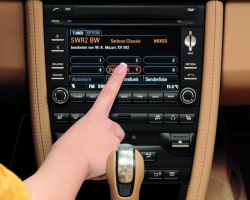 — A Porsche Communication Management (PCM) lawsuit settlement has been reached between the two vehicle owners who sued and Porsche.
Plaintiffs Kent Bowen and Kathleen Darnell allege the PCMs (infotainment systems) suffer constant rebooting due to a May 2020 update.
Included in the Porsche class action lawsuit are these vehicles if equipped with PCM 3.1 infotainment systems and XM satellite radio antennas:
2010-2016 Porsche Panamera
2011-2016 Porsche Cayenne
2012-2016 Porsche 911 Carrera
2012-2016 Porsche Boxster
2012-2016 Porsche Cayman
2015-2016 Porsche Macan
The Porsche class action alleges the PCM units received Sirius software updates which damaged the infotainment systems, damage that causes a continuous rebooting loop.
The original version of the PCM lawsuit included systems 3.0 and 3.1, but the settlement includes only 3.1 systems.
Although Porsche agreed to settle the infotainment lawsuit, the automaker denies all wrongdoing and liability.
Porsche PCM Lawsuit Settlement Terms
According to the settlement agreement which still must be approved by the judge, affected Porsche customers have two options.
Option 1: Reimbursement of Out-of-Pocket Costs
Out-of-pocket costs include money spent to repair PCM 3.1 rebooting problems, battery replacements and towing expenses.
However, the towing expenses and alternative transportation costs must have been incurred no later than 48 hours after the completion of the PCM repair or replacement.
A Porsche customer must file a valid claim form and provide all requested documents such as invoices or receipts.
Then there is option 2 of the agreement.
"Settlement Class Members who experienced PCM 3.1 Rebooting Issues and spent time addressing rebooting of their PCM on or after May 20, 2020, but who did not incur Out-of-Pocket Costs and/or do not have documentation to substantiate their Out-of-Pocket Costs may elect to receive either (i) a cash payment of $25 or (ii) a $50 credit at an Authorized Porsche Dealer."
The Porsche PCM lawsuit settlement says a customer must choose either option 1 or option 2, but not both.
Attorneys representing the plaintiffs expect to receive $2,050,000.
Porsche customers will eventually be capable of learning about the PCM lawsuit settlement by visiting PorschePCMSettlement.com.
The Porsche infotainment class action lawsuit was filed in the U.S. District Court for the Northern District of Georgia (Atlanta Division): Bowen vs. Porsche Cars N.A., Inc.
The plaintiff is represented by Caplan Cobb LLP, Meyer Wilson Co., LPA, and Gibbs Law Group LLP.