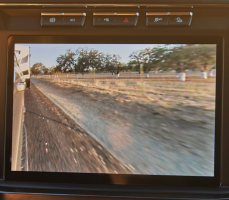 — A Ram truck backup camera image recall has been issued because the rearview camera images may not display when the Ram trucks are shifted into REVERSE.
The Ram truck backup camera image recall involves more than 337,000 of these trucks in the U.S. and Canada.
2022-2023 Ram 1500
2022-2023 Ram 3500 Chassis Cab (Gross weight rating less than 10,000 lbs.)
2022-2024 Ram 2500
In June 2022, Fiat Chrysler recalled Ram trucks equipped with R1Low radios. The software in the radios caused the backup camera images to display black or blank rearview images. According to Chrysler, at the time there was no evidence R1 High radios caused any problems with the backup cameras.
But in April 2023, FCA learned about 2022-2023 Ram trucks that experienced backup camera image failures and those trucks were equipped with R1 High radios.
Engineers learned the backup cameras can fail internally and cause black or blank rearview camera screens.
Ram truck recall letters are expected to be mailed November 17, 2023. Ram dealers will fix the camera image problems by updating the radio software.
Ram truck owners may call 800-853-1403 and use recall number 97A.