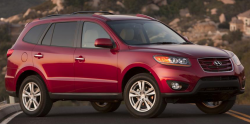 — The National Highway Traffic Safety Administration has opened an investigation into possible problems with the steering shaft in the 2011 Hyundai Santa Fe.
The federal Office of Defects Investigation received a complaint alleging that a fastener became loose in the steering shaft resulting in a complete loss of steering. Additionally, data from Hyundai indicated a possible problem with a loosening bolt in the lower steering column of a 2011 Santa Fe.
The federal investigation will attempt to determine exactly what is going on and if a recall should be ordered.
In July, Hyundai recalled model year 2007-2009 Santa Fe vehicles because the occupant air bag could fail to inflate in a crash. That recall involved close to 200,000 vehicles.