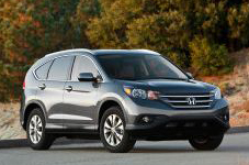 — American Honda is recalling 166,000 model year 2012 CR-V vehicles and 6,200 model year 2013 Acura ILX vehicles to replace both front door latches.
Additionally, the interior front door handles will be replaced in certain CR-V vehicles.
Honda says the problem occurs when occupants simultaneously use the driver's or passenger's inner door handle and either the manual or power door lock which may result in the inner door handle release cable becoming partially disengaged.
When this occurs, the door may not latch when closed or the door may latch and close, but then open when the door locks are operated.
In short, the door could fly open when you least expect it, although Honda says no accidents or injuries have been reported thus far.
Honda will begin mailing notifications to customers in August, 2012.
In mid-August, owners will be able to determine if their vehicles require repair by visiting www.recalls.honda.com and www.recalls.acura.com or by calling 800-999-1009 for Honda owners or 800-382-2238 for Acura owners.