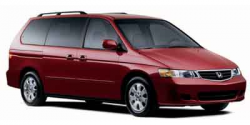 — Remember the saying, "If it wasn't for bad luck...?" That has to be what Honda executives are thinking right now after a week filled with recalls and investigations.
Although Honda officials are probably sweating to think what might come next, Honda owners are boiling mad at the sheer number of instructions they will need to follow just to know they are driving a safe vehicle.
The "welcome-to-the-Honda-circus" started with an announcement that an original May, 2012, recall of 2007 and 2008 Acura TL vehicles had been expanded to include over 573,000 model year 2003-2007 Accord V6 vehicles.
According to Honda, power steering fluid temperatures might cause the power steering hose to leak. Leaking power steering fluid could cause a loss of power steering or even a fire if it leaks onto the catalytic converter. Honda had further bad news when it was announced that the parts necessary to complete final repair of the Accords wouldn't even be available until early 2013.
Up next was the recall of 820,000 Civic and Pilot vehicles that have headlights that could go out without advance warning. The recall involves model year 2002-2003 Civic and model year 2004-2005 Pilot vehicles. When you include vehicles from a March, 2012 recall, the total number of affected vehicles totals over 1,300,000.
Following that news was the announcement of another Honda recall, this time involving over 268,000 model year 2002-2006 CR-V vehicles.
According to Honda, the driver-side power window switch might stop working or completely melt. It's one thing if the switch stops working, but if it melts it could cause a fire, even if the vehicle is alone and parked. Honda warned drivers to park their vehicles outside just in case.
Additionally, word came down that the government was stepping in to investigate Honda 2003-2004 Honda Odyssey and Pilot vehicles because of complaints alleging the vehicles could roll down the road without a driver. Owners have complained their vehicles have rolled as far as two blocks away even though the vehicle was put in PARK.
Sixteen owners said the only thing that finally stopped their vehicle was a random object, like a tree or a concrete wall. Other targets included mailboxes, poles, and parked cars along the way.
One Honda owner said she was knocked to the ground while trying to stop her runaway vehicle. A driver of a 2003 Honda Odyssey said her leg was fractured after her vehicle rolled over her as she tried to stop it from rolling away.
And you thought you had a bad week?