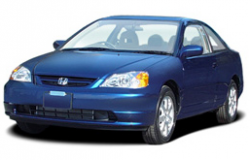 — Honda has expanded a March, 2012, low beam headlight recall to include approximately 820,000 model year 2002-2003 Civic and model year 2004-2005 Pilot vehicles in the U.S.
This takes the total number of vehicles to 1,375,217.
According to documents filed with the National Highway Traffic Safety Administration, the low beam headlights can go out at any time due to melting wiring.
Honda says tension from the switch wiring harness, along with wear on the surface of the electrical terminal, can cause the terminal ends to melt within the wiring harness connector. Once that occurs, the lights could go out right when you need them the most. However, Honda says that no crashes or injuries have been reported so far.
Owners will receive notification from Honda to schedule an appointment with a dealer. Your dealer will inspect your vehicle and if needed, repair the low beam terminal harness or replace the lighting switch. Contact Honda at 800-999-1009.
Related Reading: