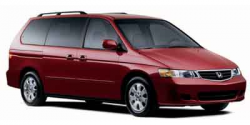 — Honda is recalling over 807,000 model year 2003 and 2004 Pilot and Odyssey and 2003 through 2006 Acura MDX vehicles because the interlock lever of the ignition switch may deform.
Honda says this can cause the interlock function of a vehicle with an automatic transmission to fail, which means a vehicle can roll away if the key is removed without the vehicle being in park.
The affected vehicles were manufactured from November 26, 2001, through August 30, 2006.
The recall is expected to begin about February 7, 2013. Your dealer will install an updated shift interlock lever and, if necessary, replace the ignition switch.
For more information, contact Honda at 800-999-1009 and refer to recall numbers S73 and S74.
The recall comes after an October, 2012, federal investigation of why Honda Pilot and Odyssey vehicles were rolling away from owners.
Twenty-six owners said their vehicles rolled away, including 16 who said their vehicles only stopped when they finally hit an object. Those objects include fences, a tree, a pole, a landscape retaining wall 600 feet away and a brick mailbox that was struck after the vehicle rolled for 2 blocks.
Additionally, some complainants alleged their vehicles came to rest after hitting multiple parked cars. One driver suffered a fractured leg while attempting to stop the vehicle from rolling down the street.