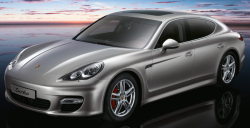 — Even the most expensive luxurious cars aren't immune to recalls, as the latest news from Porsche clearly shows.
The National Highway Transportation Safety Administration announced that Porsche is recalling certain 2011-2012 Panamera Turbo, 2012 Panamera Turbo S, and 2012 Cayenne Turbo vehicles.
According to the NHTSA, the turbine wheel of a turbocharger can fracture due to a casting defect. If this happens, the turbine shaft might fracture and cause oil to be drawn into the exhaust system, resulting in an increased risk of fire.
The recall should begin this month, and your dealer will replace the turbine wheels free of charge.
Call Porsche customer service at 888-327-4236.