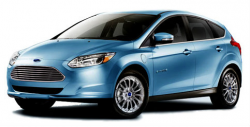 — The National Highway Traffic Safety Administration wants to know if model year 2012-2013 Ford Focus Electric vehicles are shutting down on the roads for no apparent reason.
The Office of Defects Investigation says owners allege their cars stall while driving.
Half the complaints claim the cars were traveling above 30 mph when they decided to stall. None of the incidents caused a crash, but safety regulators believe a trend might be underway because all the complaints have been submitted within the past five months.
A California driver of a 2012 Ford Focus Electric complained about getting a "stop safely now" warning before the car completely stopped.
Fortunately, it was on the internal street and around 3 pm when traffic is very low. I am glad this incident did not happen on the freeway in the carpool lane.
A preliminary evaluation has been opened to find out if the alleged defect is a real defect.
Based on the findings, the case could be dropped, the investigation could be upgraded to an engineering analysis, or the cars could be recalled.