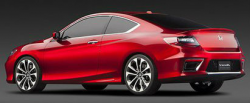 — Honda is recalling over 1,600 model year 2013 Accord vehicles because a gas leak may cause a fire. It's a summertime carbeque! (sorry)
The vehicles were manufactured January 15, 2013, through April 5, 2013 and are rated Low-Emission Vehicle (LEV) II.
Honda says a problem with the fuel tank neck may cause the fuel pump to not properly seal to the gas tank. An improper seal could cause a gas leak which could easily lead to a fire.
The recall should begin August 1, 2013. Honda dealers will replace the fuel tank, nut and O-ring gasket.
With questions, contact Honda at 310-783-2000 and give them recall number JA9.