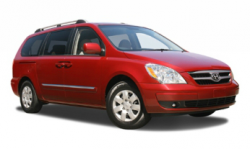 — Just days after Kia recalled 80,000 Sedona minivans because the front lower control arms can break, Hyundai is recalling 15,500 Entourage minivans for the same problem. The recalled models include 2007-2008 Hyundai Entourage minivans sold in, or currently registered in the following states:
Massachusetts, Maryland, Michigan, New Hampshire, New York, Pennsylvania, Vermont, Wisconsin, Connecticut, Delaware, Iowa, Illinois, Indiana, Maine, Minnesota, Missouri, New Jersey, Ohio, Rhode Island, West Virginia and the District of Columbia.
Hyundai says the affected Entourage minivans use the same control arms as the Kia Sedona. The arms can rust and break because of corrosion resulting from exposure to road salt and water.
Hyundai says they have received reports of minivans that experienced a fracture of the lower front control arm between the ball joint attachment and the forward and rearward pivot attachments of the body. A driver will lose control of the minivan if the control arm fractures.
The recall should begin in December, 2013. Hyundai dealers will inspect the front lower control arms and will rustproof or replace them.
Entourage owners can contact Hyundai at 800-633-5151 and use recall number 115.