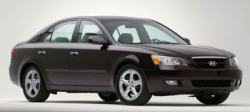 — The National Highway Traffic Safety Administration has opened a federal investigation into the Hyundai Sonata after complaints about rear suspension control arm failures.
The investigation is focused on model years 2006 through 2008 and could include as many as 393,000 vehicles.
Three drivers complained the failures occurred while driving at highway speeds leading to a sudden lost of control. Some complaints allege the electronic stability control system was activated during the rear-end failure.
A driver of a 2006 Sonata complained the vehicle went out of control while traveling 65 mph, causing the car to dart to the left while the rear tire squealed. The Sonata was taken to a mechanic who found severe corrosion on the rear sub-frame.
The investigation will attempt to determine if rear sub-frame corrosion is the problem and if a recall should be ordered.