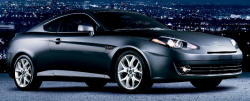 — Hyundai is on the receiving end of a class-action lawsuit that claims the Hyundai Tiburon has a serious safety defect in the air bag system.
The suit, filed November, 25, 2013, in the U.S. District Court for the Central District of California, alleges model year 2003-2008 Tiburon cars have a side air bag system with a faulty sensor.
According to the lawsuit, the sensor can't recognize many types of crashes in which an air bag should be deployed. The suit alleges Hyundai's own testing established the inboard location of the sensor had difficulty detecting crash severity in simulated collisions.
The suit accuses Hyundai of violations of the California Consumer Legal Remedies Act and California Unfair Competition Law, Breach of the Implied Warranty of Merchantability, and Fraudulent Concealment.
If you purchased a Hyundai Tiburon and would like more information, contact an attorney at Hagens Berman at 206-623-7292 or Stein Mitchell at 202-737-7777.