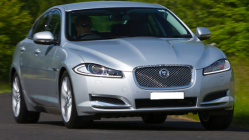 — Paying a lot of money for a nice car doesn't mean you can avoid the recall bandwagon. Jaguar is recalling 2,929 luxury cars in two separate recalls involving their XF and XK models.
The majority of the recalled models are 1,989 model year 2011-2014 XK convertible cars. Jaguar says the power windows can start moving without touching any button or switch. Not a good thing if you have your arm out the window at the time.
Jaguar dealers must replace the entire overhead roof console because a switch in the console causes the windows to malfunction when opening or closing the convertible roof.
The second recall has Jaguar recalling 940 model year 2013 XF 2-liter GTDi cars because they could stall.
The National Highway Traffic Safety Administration says a hose clamp for the charge air cooler could come loose and cause the car to stall, along with losing all power steering and braking.
Both recalls are expected to begin by the end of September, 2013.
Owners can contact Jaguar at 800-452-4827.