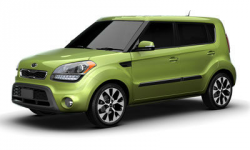 — A class-action lawsuit against Kia Motors claims model year 2010-2013 Kia Souls have gas tank defects that can kill or injure passengers in an accident.
The suit, filed Nov. 13, 2013, in the U.S. District Court for the Central District of California, focuses on Kia Soul cars with a gas tank that is either not connected to the vehicle with reinforced straps, or is not protected by a whole-tank shield. The suit also targets Kia cars that have a plastic fuel pump service cover that is accessible from the passenger compartment of the car.
Plaintiffs Constance Sims and Sammy Rodriguez, represented by Seattle-based law firm, Hagens Berman, claim they bought their cars based on advertisements that promoted safety. The plaintiffs say they never would have purchased a car with an unshielded gas tank located directly under the passenger compartment.
The lawsuit claims a safety defect exists because the gas tank is bolted to the vehicle instead of being strapped to the car, something that could cause the tank to shift or come loose in a collision.
The suit also claims there is a major problem with fuel pump service covers made of plastic, instead of metal, and placed under the rear seat cushion.
"Passengers sitting in the rear seats in defective vehicles are sitting atop veritable gas bombs that, in a major collision, have the propensity to explode and immediately engulf rear occupants in flames. There has been at least one accident in which this nightmare scenario resulted, killing three passengers traveling in a defective Soul in Texas." - Lead plaintiff, Constance Sims
The Texas crash killed three people on their way to a church function. All three were in the backseat of the Soul.
The lawsuit contends that Kia violated California's Unfair Competition Law, the Consumer Legal Remedies Act and False Advertising Law. The suit also claims Kia committed a breach of implied warranty of merchantability and committed fraudulent concealment.
Considering the pending litigation, Kia did not respond to a request for comment.
Consumers who have purchased or leased a 2010-2013 Kia Soul may contact Hagens Berman at 206-623-7292.