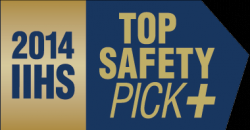 — It's the end of another year and time for the Insurance Institute for Highway Safety's (IIHS) list of the safest vehicles for 2014. The Institute is funded by insurance companies and if there are any companies that want safer cars, it's insurance companies.
A "Top Safety Pick" award used to be the highest honor bestowed on a vehicle based solely on the level of crash protection. However, the Institute is now taking into consideration the ability of a vehicle to avoid a crash in the first place and created a new award: Top Safety Pick+.
For 2014, twenty-two vehicles earn the highest safety award, Top Safety Pick+, thanks to a high level of protection in crashes and the availability of front crash prevention technology. An additional 17 vehicles earn Top Safety Pick by meeting the crashworthiness criteria, although without front crash protection technology.
For a vehicle to receive a Top Safety Pick award, that vehicle must have good performance in the moderate overlap front, side, roof strength and head restraint tests. It must also have a good or acceptable rating in the small overlap front test.
To be award Top Safety Pick+, a vehicle must meet the same level of performance in those tests, along with at least a basic rating for front crash prevention.
IIHS began rating front crash prevention systems earlier this year after research by its affiliate, the Highway Loss Data Institute, showed that forward collision warning and automatic braking systems are reducing crashes.
2014 Top Safety Pick+ Awards
Small Cars
Midsize Moderately Priced Cars
Midsize Luxury Cars
Large Luxury Cars
Small SUVs
Midsize SUV
Midsize Luxury SUVs
Minivan
2014 Top Safety Pick (Without front crash protection technology)
Minicar
Small Cars
Midsize Moderately Priced Cars
Midsize Luxury Car
Small SUV
Midsize Luxury SUV
Note: Except for the Volvo S60, S80 and XC60 and the hybrid version of the Honda Civic 4-door, vehicles listed under Top Safety Pick+ qualify for that award only when equipped with optional front crash prevention. Front crash prevention isn't available on non-hybrid versions of the Civic.